Services.
The areas we cover are the Auchterarder for walks and throughout Stirlingshire and Perthshire for boarding. We do accept short term commisions outside this area (please contact us to discuss). All services are designed to meet your specific requirements, we will try our utmost to accommodate your requests. For walks a free introductory visit will be carried out in order to assess your pets and establish how your needs will be best met. During the visit we will ask to see vaccination records and for you to complete pet information and emergency vet release forms .
Note: We always carry with us fresh water, treats, spare leads, towels/wipes and a first aid kit.
Dog walking.
We offer a daily dog walking service where we walk your dog alone or in a suitable group in the area were you live. This makes the dog feel comfortable as he or she is familiar with its surroundings and there is no need for a long car journey.
We keep all the dogs on a lead and will only let them loose when we are fully familiar with each other and with your written permission.
All dogs will be dried off and will have their paws wiped. For fully vaccinated puppies, socialisation walks will be in appropriate groups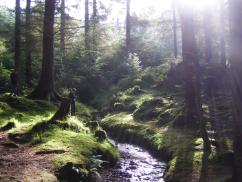 Cat sitting.
Cats enjoy the comfort of their own homes, we can visit your cat daily to feed, water, play and clean up litter trays. We can also take in the post/news papers, look after plants etc as required.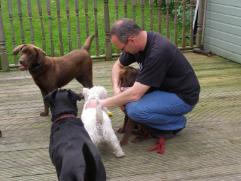 Dog Sitting
Some dogs prefer to stay in their own homes whilst their owners are away. We can visit 4 times a day to feed, play and give your dog toilet breaks. We will also include a 1 hour walk or 2 shorter walks during the day. This would work well if you have more than one pet at home as we can care for your other animals during our visits at no extra cost.
Dog Boarding.
We offer a home boarding service where your dog would stay in our home as part of the family if you are away for a day or a holiday. We only board up to 2 dogs in addition to our own 2 and we encourage you to visit with your dogs so that the dogs can meet and you can see for yourself where they will be staying. We can also text you regular updates if you like for added peace of mind. We are happy to post photos and updates on our Facebook page at your request.
Chicken and small animals
Other small pets, such as chickens and rabbits can be accommodated as per your needs (please contact us to discuss further).